Claire Destrée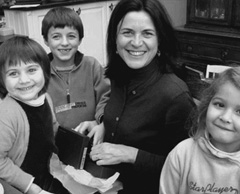 Claire Destrée gained an MA in Art History in 1987. Her research and subsequent work have always been particularly centred on dance and its relationship to the history of fine arts. Within the Brussels organization 'Contredanse', she created a Dance Documentation Centre and Library focused on dance aesthetics and movement analysis.
It was through dance that Claire Destrée first encountered the Alexander Technique - which unites her passion for artistic expression with her striving to understand the how and why of movement: the appreciation of the results, and the understanding of the process. She finds that the Alexander Technique enables one to prolong this exploration infinitely, throughout all the movements of life.
Trained by Eliane Lefebvre and Elizabeth Langford, she qualified as an Alexander teacher in 1997. Since then she has been giving private lessons in Brussels.
In 2003 she became Elizabeth Langford's principal assistant in the training course (Alexander Technique Centre). She has been taking part in the training of future teachers ever since.
Claire is continually furthering her studies, first of all through teaching her pupils and learning from them, and also by continuing to study with a number of senior teachers (Constructive Teaching Centre, Ilana Machover, John Nicholls,...)
In her teaching, she regularly works with dancers (among others, dancers of the Rosas Dance Company, and dancers of P.A.R.T.S. dance school).
She has explored, through her own experience and through her work with other pregnant women, how applying the Alexander Technique in pregnancy, childbirth and parenthood can be tremendously helpful. In that context she also trained with Ilana Machover (Eutokia) and with Michel Odent and Liliana Lammers (Paramanadoula).
Claire is a member of ATE (Alexander Technique Education Inc.) and of AEFMAT (Association of the Alexander Teachers of Belgium) and is a world friend of STAT (Society of the Teachers of the Alexander Technique).